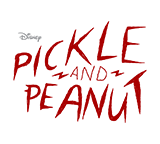 Pickle and Peanut is an Disney animated television series that premiered on Disney XD on September 7, 2015. It was created by Noah Z. Jones and Joel Trussell and Mark Rivers. The series is about two unlikely friends -- an emotional pickle and a freewheeling peanut in an innovative mix of 2-D animation and live-action clips to tell the small town adventures of two underdogs who dream up plans to be anything but ordinary.
Episodes
Main article: List of Pickle & Peanut episodes
Ad blocker interference detected!
Wikia is a free-to-use site that makes money from advertising. We have a modified experience for viewers using ad blockers

Wikia is not accessible if you've made further modifications. Remove the custom ad blocker rule(s) and the page will load as expected.